It's that time of the year when many of us hear the call of the lake and the trees – cottage season. There is nothing better than scheduling a little time off to pack up the family and get away from it all. But, there are a few details to think about when you head up to your home away from home for the first time this year.
While you're still home
There are a few things you need to get in order before it's time to head to the cottage.
·         Review your insurance! Before opening for the year, review your policy and make sure it reflects your needs. Flooding and theft have both been rising issues in cottage country for the past few years, and it may be time to update your policy to be sure your little slice of heaven has the protection it needs.
·         Call up your service providers and make sure your cottage is ready to go. There is nothing worse than driving 5 or 6 hours only to find the electricity at the cottage hasn't been turned on, or the phone or satellite are dead. A few quick calls before you go can save a lot of headache.
·         Actually, there is one thing worse than finding the power out at your cottage – not being able to get in! When you forget your keys while running errands in the city it's an annoyance, when you forget them in cottage country, it's a nightmare. Double check that you have the keys on your key ring before you go. It is probably a good idea to have an extra set cut for anyone coming up with you, that way you have a safety net if someone else forgets.
·         Pack for the weather. Be sure to check the recent trends in the area, both the forecast and the last few weeks of weather so you have a good idea of what to expect when you're up there. It never hurts to bring a few extra sweaters in case the nights are chillier than you expect, or a rain slicker in case things turn nasty.
Once you've arrived
Ahh, breathe it in, the fresh air, the scent of firewood burning in the distance, this is what makes life worth living. After you're done appreciating the ambience of your cottage, take a few moments to go over the property and make sure everything is as it should be.
You should check the following areas for any signs of failure, infestation, or break-in:
·         All power lines, phone lines, and connections
·         Nearby trees. Try to gauge how healthy they are, if they present any risk of falling over and damaging your cottage or vehicles, and if there are any troublesome insect nests you should be cautious of.
·         Check the roof of the cottage, see if there is any damage or signs of intrusion.
·         Examine the siding, windows and screens, make sure there are no breakages, cracks, or other issues.
·         Check the chimney and ventilation if possible. Nests and blockages can mean big problems for a wood stove or fireplace.
·         Look under the deck and cottage itself and see if any uninvited house guests are scurrying about.
Once you've done that, make your way inside and check the interior
·         Take a quick look around and make sure everything is where you left it.
·         Open the cupboards and closets and check for any evidence of mice.
·         Keep an eye out for any signs of leaks. Water damage can be bad news in a cottage.
All good? If you find evidence of break-in or damage, give your broker a call. If everything looks fine, it's time to turn on your services!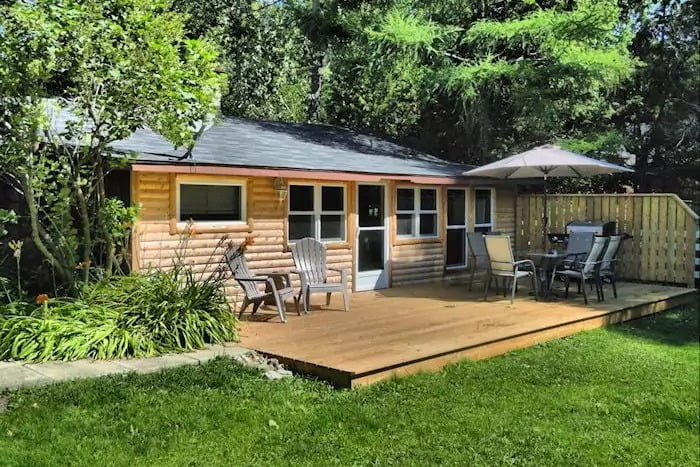 Getting things up and running
It's always a good idea to pay attention when you're opening the cottage for the season. Even if this is a yearly tradition you've done a dozen times and could probably do with your eyes closed, focus on what you're doing. Noticing a problem early and fixing it is far better than turning everything on and then discovering a leak or issue afterwards.
·         Carefully inspect every water line before doing anything else. Make sure everything is connected securely and there are no obvious holes, cracks, or issues.
·         Start up your water system. Once you have it ready to go, open all the cold water taps to push out any air in the system.
·         When it is active, inspect the lines as water is moved through them. Watch for leaks, but also listen. Pay attention to any hissing sounds that could indicate a leak.
·         Once the pump is active, close all the taps and check to make sure it is maintaining pressure and not running when all the taps are off. If you see the pressure dipping, or the unit is still running, that means there is a problem somewhere.
·         When turning on the hot water tank, be sure to open up the hot taps to push out any trapped air just like you did with the cold.
·         Again, check the pipes for leaks.
·         The rustic bathroom experience of a septic tank or outhouse is nobody's favourite part of the cottage experience, but it's one that should be dealt with. If possible, have the septic tank pumped and the outhouse cleaned early in the season. Yes, it will cost a little bit, but it's money well spent. Far better to make sure everything is empty and clean at the beginning of the season than to run into a problem later.
Break out the lawn chairs and fire up the barbecue
Opening the cottage takes a bit of work but by being thorough and diligent to the details when you first arrive, you can ensure a relaxing experience for the rest of your vacation. Once you've given everything the once over, turned on the services, and unpacked, it's time to kick back, relax, and enjoy the peace and quiet of nature.