Staebler Insurance has been a part of Kitchener and Waterloo Region for our entire 150 year history. It's been a long and rewarding road, and we couldn't have done it without this great region.
Charitable and Community Involvement has been a longtime pillar for our organization. To help celebrate 150 years, Staebler Insurance plans to give even more to the charities, community groups, and nonprofits that matter most to us.
In 2023, we are planning:
» $150,000 in local, needs-based donations and community support projects
» Unlimited volunteer days for staff to help giveback
» Partnering with insurance companies and our industry partners to make even greater impacts in Waterloo Region
Confirmed Events:
» Saturday, February 25: Coldest Night of the Year (supporting Ray of Hope Community Centre) – Team Staebler 150 broke its fundraising goal by collecting more than $6,400 in donations! (Facebook Photos)
» Sunday, May 7: Lutherwood Steps 4 Kids (More details)
» Saturday, May 27: Waterloo Wellington Alzheimer Society Walk for Alzheimer's (More details)
» Sunday, June 11: Autism Speaks Canada Walk (More details)
» June 11-17: KidsAbility Superhero Challenge (More details)
» Saturday, September 9: Walk for Lupus
Stay tuned for more events to join with us!
» Kids Help Phone
» Kitchener Klassics Softball Team
» Kitchener Stray Cat Rescue
» Kitchener-Waterloo Humane Society (Learn More)
» Leejay Levene Calendar (Photo on Facebook)
» Lutherwood Children's Mental Health
» Marillac Place (Photos on Facebook)
» Nutrition for Learning (Volunteering Photos on Facebook)
» SPECTRUM WR
» Sprucelawn Apartments – Beyond Housing Project
» Tiny Home Takeout
» Tricity Outlaws Football Team
» Wildlife Haven Waterloo
» WWF-Canada through the CN Tower Climb for Nature
» Youth Creativity Fund (Learn More)
Stay tuned as we announce more charitable donations and community supports throughout 2023!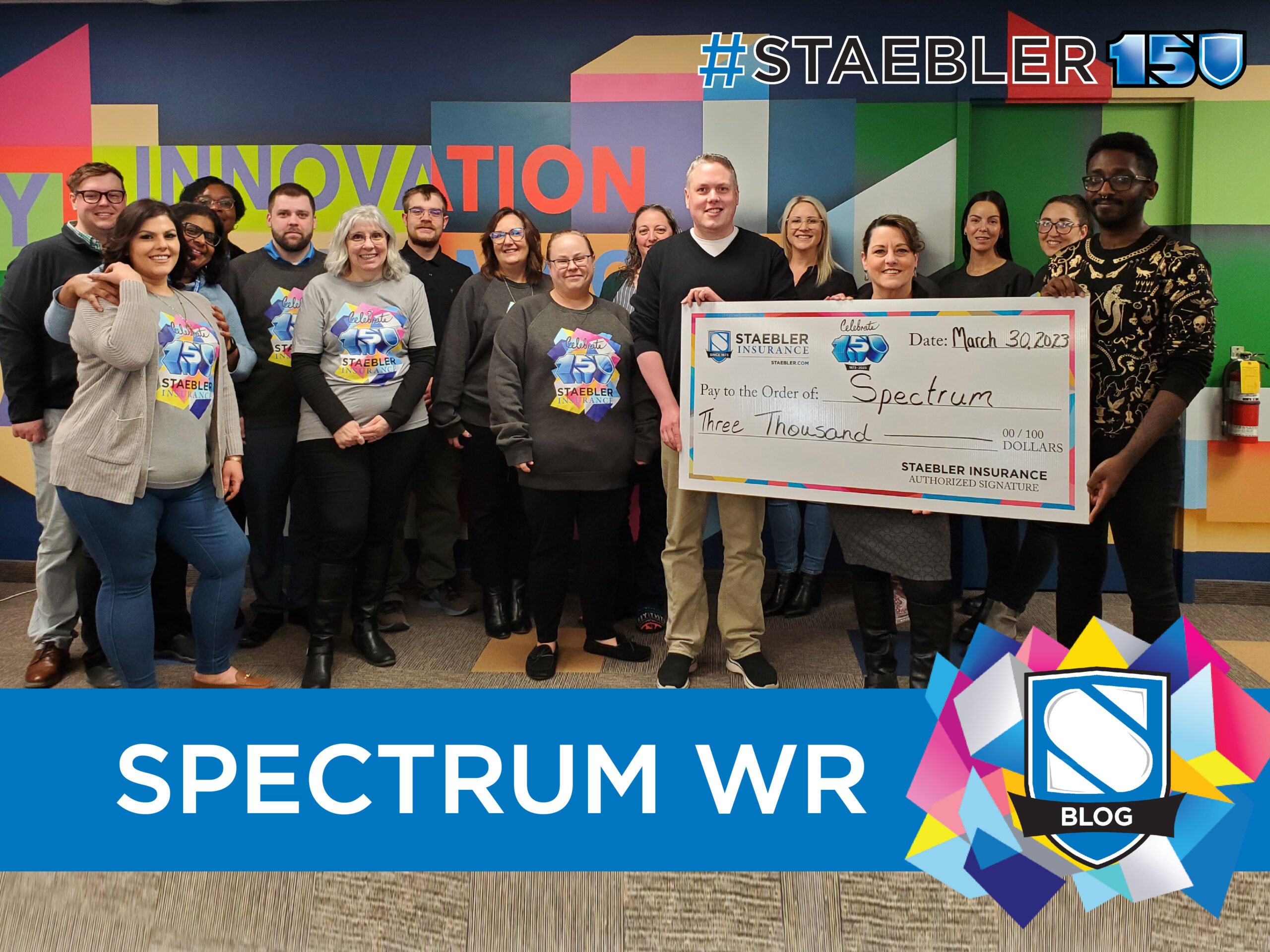 Staebler Insurance is proud to support Pride Month in Waterloo Region with a donation to SPECTRUM WR and their annual fundraiser. On Thursday, June 29, Staebler's donation of $3,000 will contribute to the second annual gala. "Spectrum is grateful for the support of...
read more