Renovating your home may be exciting for you, but to your neighbours, it's a different story. Talk to your next door buddy while grabbing the morning paper about your plans to put in a new pool this year, or to add a sun room around the back, or convert the basement into a full apartment with its own entrance, and watch the blood drain from their face.
You might be picturing lazy sunny days in the pool, enjoying your breakfast to the sounds of songbirds, and the joy of extra rent income from a sublet. But your neighbour on the other hand is going to be picturing stressful mornings trying to dodge dump trucks, eating breakfast to the sound of jackhammers, and the dread of a never ending parade of contractors and craftsmen coming and going for weeks on end.
So how do you get those renovations done without becoming the neighbourhood pariah? We have a few tips!
Do your homework!
You have your building permit ready and validated before you start, right? Do you know the local noise control bylaws? Are you up to date on your municipality's policies for parking, "eyesores," waste management, and contracting regulations?
If you answered no to any one of these, it's time to pump the breaks and do your homework. Knowing and complying with all local regulations is the first step to avoiding a conflict with the neighbours, and saving you from any potential headaches. After all, the only thing worse than a noisy renovation is a noisy renovation that gets stopped halfway for violating some regulation and needs to be restarted from scratch.
Also, have you explained to your neighbours exactly what you plan to do? Depending on your renovation, this may or may not be a huge concern. If you're only changing things inside the home, giving your neighbours a heads-up is just an act of politeness. If you plan on changing something that will affect their home or property though, you should get ahead of it and let them know. If your renovation will involve cutting down a tree that provides shade for their lawn, or adding another floor that will block their view, or maybe a balcony that will be directly overlooking their hot tub or bathroom, it's best to let them know ahead of time. They might not be happy with what you have to say, but it's better than a nasty surprise.
Know when to keep it down
Any project is going to involve some noise, and that's bound to annoy someone. This is one of those things where it is going to be impossible to please everyone no matter how considerate you try to be. With this in mind, the best you can do is to follow the local bylaws for noise and active work. These particular rules change from city to city, so be sure to check before you begin (also watch out for weekend and holiday rules).
Be mindful of extra equipment, vehicles, and gear that may affect the parking and traffic flow of your street while you renovate. Not only can these vehicles be extremely loud, they can also become obstacles and dangers during busy traffic times. If at all possible, try to avoid scheduling contractors around the morning rush or the after work hours when the road is at its busiest.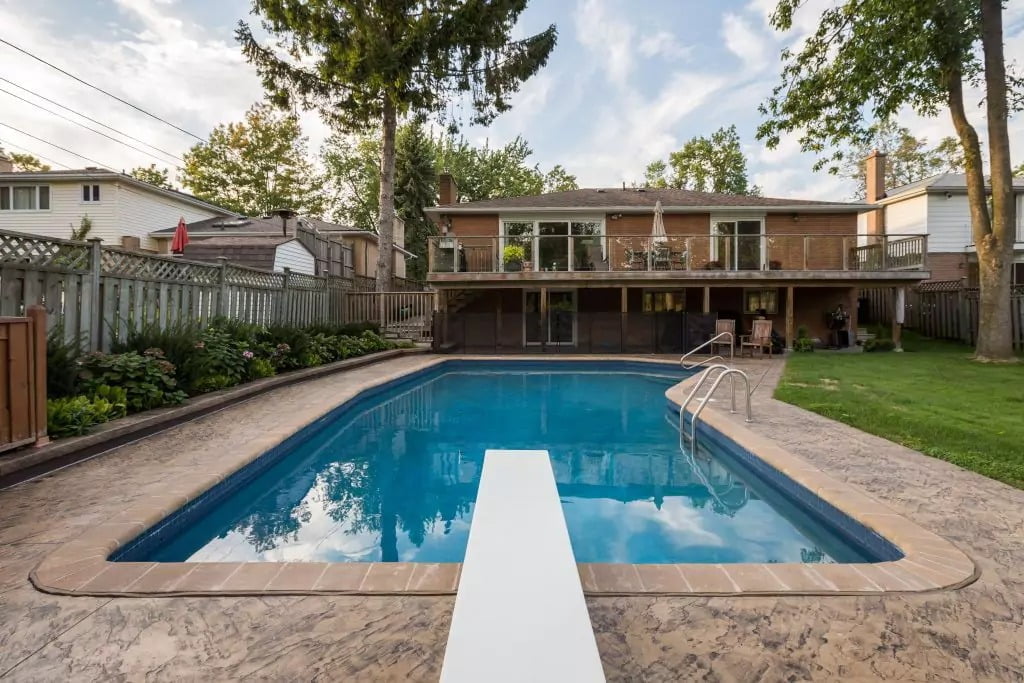 Going the extra step
Want to make sure you remain in the neighbours' good books? Take the time to go the extra distance.
If you're organizing a large project that will require porta-potties for workers, be cool and make sure they are positioned awayfrom your neighbour's property. Nobody wants to be waking up to that particular fragrance in the morning.
While you're at it, put up some markers or barriers that clearly define your property and your neighbour's. This is both a way of showing that you respect their property and a way to head off unnecessary head-butting later on when a contractor dumps a load of fill material in the wrong place or chews up their golf course quality lawn by dragging a piece of equipment over it. Fences and barriers are also a good way of protecting yourself from liability. You don't want any curious kids wandering over to check out the cool new pit where your pool is going in.
A little cooperation can go a long way. Talk to your neighbours, if they have some event coming up like a backyard birthday party for one of their kids, a family reunion barbecue they've been planning for weeks, or a holiday celebration, see if you can work around it. It might not always be possible, but it never hurts to try.
Check in with your insurance broker
While you're doing things the right way, let us help! Depending on what you're doing, renovations can affect your home insurance premium, so check in with your broker and see what they can do for you. If your premiums are going to increase due to something like the installation of a pool, Staebler Brokers can help you find the best rate. If you're doing other kinds of improvements, we may even be able to find a discount.
You've done what you can to make these renovations go smoothly for everyone else, we'll make sure they also go smoothly for you!