Article originally posted on TruckNews.com (March 1, 2018).
MISSISSAUGA, ON – The widely held belief that commercial drivers under the age of 25 cannot be insured is a myth, according to Lisa Arseneau of Staebler Insurance.
She was moderating an insurance panel at the Truck Training Schools Association of Ontario's (TTSAO) annual conference.
"I can't believe this is still being said and believed," Arseneau said. "That you cannot hire anyone under the age of 25 because insurance won't let you. That is a myth and has always been a myth."
Panelists pointed out every insurer has different eligibility requirements, which are filed with and enforced by federal or provincial regulators. Arseneau urged fleets to ask more questions of their brokers or insurance providers, because some will insure young drivers that others will not.
"Every insurer has their own rules," she said. "Ask harder questions of your broker, to your underwriter. Say, 'Are you really sure?' There are some people who live by that rule and have never asked."
Todd MacGillivray of Northbridge Insurance noted insurers face "significant penalties" if they don't adhere to the eligibility requirements they have filed with the government. However, Northbridge's eligibility requirements are 17 pages long, and take many variables into account. Training schools also have a role, noted Arseneau, in working with students to find them a suitable job and employer once they obtain their licence.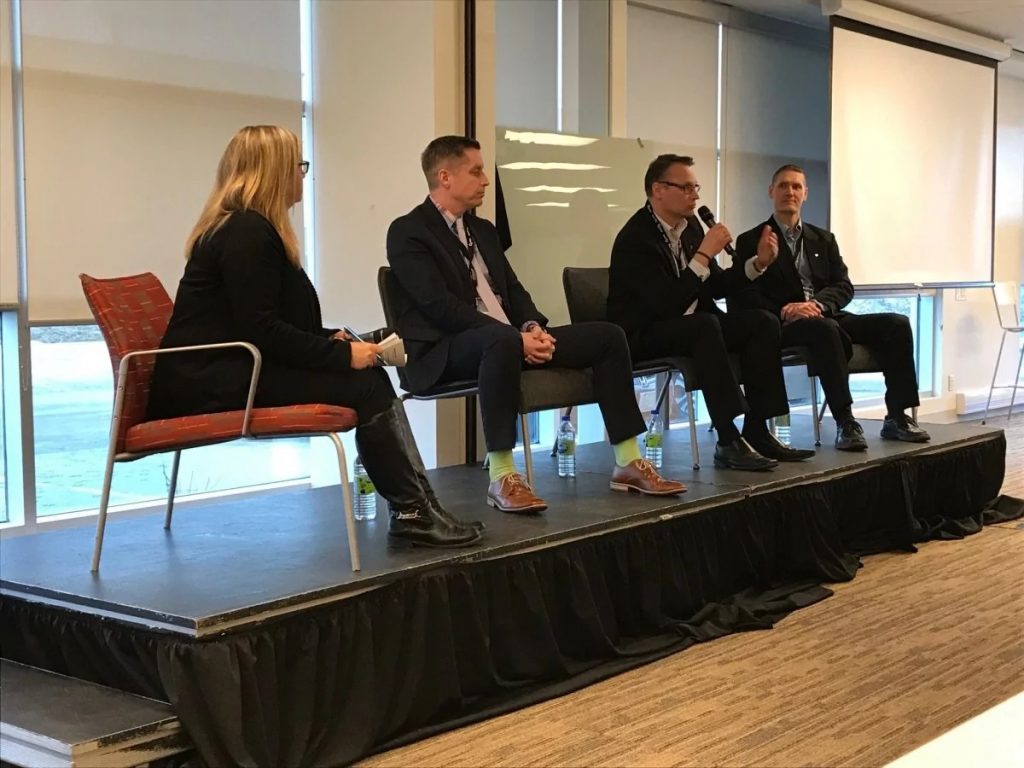 Insurance Challenges
Insurers on the panel acknowledged many challenges face the industry in the year ahead. MacGillivray said one of the biggest challenges is the size of the claims being filed against carriers continues to rise.
"Everybody sees the outrageous demands south of the border," he said. "That environment is in Canada. It's not coming to Canada, it's in Canada. We are seeing demands that are completely outrageous."
He cited a recent $55-million claim made against a carrier over a "small event."
"That litigious environment is not a Toronto-specific thing, it's a national issue," he added.
Fluctuations in the value of the loonie relative to the U.S. dollar is another issue for the insurance industry, since premiums are collected in Canadian dollars but 60% of claims are paid out in U.S. funds.
"Managing that foreign exchange component is a big deal for us. Figuring out what it will cost to pay a claim in three years," he said.
And just like in trucking, attracting talent to the insurance industry continues to be a challenge.
Don Williams of Aviva Canada agreed that rising claims costs is a major challenge for the industry. James McFarlane of broker Cowan Insurance Group, expressed concern that more insurers will exit the transport space due to rising costs and pressure on profit margins.
"As those claims continue to mount, insurance companies involved in the trucking industry are going to face a point where they have to determine what niche of the transport industry they really want to focus on," he said. "There are risks that are higher than the norm when dealing with chemicals, logging and whatnot. We might see a change from insurers working in the transport industry in terms of what they want to insure."
Arseneau said that's already happening in some sectors, such as sand and gravel.
"It's fair to say that could happen," she said of insurers exiting certain segments. "What happens if everyone's appetite changes? Where are chemical haulers going to get insurance? It's a little daunting to know their appetite could shift and we may not have an insurance carrier that has an appetite for those risks."
"Profitability hasn't been the strongest suit for our organization in the transportation field the last 24 months or so," MacGillivray acknowledged. "But we have good analytics, we've been doing this for 60-plus years, we understand this business, we're part of this business, and we're going to work with the trucking industry to solve this problem."
Optimistic about MELT
All the insurance representatives on the panel were optimistic about the mandatory entry-level training (MELT) program Ontario implemented last year. But it's too early to determine its effectiveness.
"The thing that is going to be important for the insurance industry is getting the statistics," said McFarlane. "We have to track those metrics so informed decisions can be made later on. Is a new driver that came through MELT better than someone who has five years of experience? I think the next 12-18 months are going to be pretty interesting."
Williams agreed that all eyes in insurance will be on the quality of drivers emerging from MELT programs.
"It will take a while before that filters through to where we start seeing a reduction in claims and accidents happening," he said.
Williams also noted MELT is not going to solve all the industry's problems.
"MELT is a step in the right direction," he said. "It's going to take a while for that to actually start to come to the forefront where insurance companies are noticing this and saying, this is starting to impact our results."