In January, Staebler President Joanna Mendonca joined CBC host Craig Norris on The Morning Edition, CBC Radio Kitchener-Waterloo's morning show.
The eight-minute conversation touched on Staebler's 150-year history in Waterloo Region, some odd insurance claims from the past, and our big plans to commit $150,000 to local charities and community organizations.
As the year goes on, stay tuned to the Staebler Blog, the 150 News & Media page, and follow Staebler's social media accounts for the most up to date information of our yearlong celebrations.
Click below to listen to the full conversation from CBC Kitchener-Waterloo: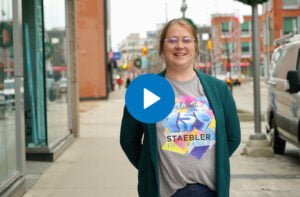 . . .
Staebler Insurance is a general insurance broker specializing in auto insurance, home insurance, small business, and commercial insurance. Staebler brokers proudly serve Kitchener, Waterloo, Cambridge, Guelph, Stratford, Listowel, Fergus, Elora, Wellington County, Perth County, Waterloo Region and southern Ontario. Click here to get started.